Who is behind N G Pharmacy?
N G Pharmacy is a division of N G Industries Ltd. It is a Sister division of N G Medicare & N G Nursing Home – both have earned the trust of citizens.
Why N G Pharmacy?
Corporate Culture, Financial strength, Systems etc ensure that we source all Medicines at reasonable price and from genuine distributions ensuring quality & preventing any fake and counterfeit stocks.
N G Pharmacy provides a computerized bill upon purchases. Computerized systems enable us to discard close expiry date medicines, and to take them off the shelf. There are also no chances of error in rates, prices and you are also free to check legible printouts of same, or to keep them for your records.
Air-conditioned & properly refrigerated storage backed by generator backed power supply ensures no deterioration of quality, and medicines are served as per specifications.
We provide free home delivery facility in entire South Kolkata.
Monthly Medicine standing orders are accepted and are delivered at home at discounted rates.
23 Southern Avenue Pharmacy is open 24 hours.
Other Services:
We provide wide range of Medicines, Injectables, and Surgical items at best rates.
We also specialize in Infertility treatment related medicines and injectables.
All Covid related Medicines, Consumables and Devices are available, including oxygen cylinders.
Citizens should know!
We educate citizens of the reality that in India consumers face a risk of Medicine, which are routinely faked, tampered with, or are spurious, illegal and substandard.
N G Pharmacy provides honest rates, convenience and the guarantee of 100% genuine medicines.
Presently N G Pharmacy has two retail outlets at the following locations.
123A, Rash Behari Avenue, Kolkata - 700029
23, Southern Avenue, Kolkata - 700026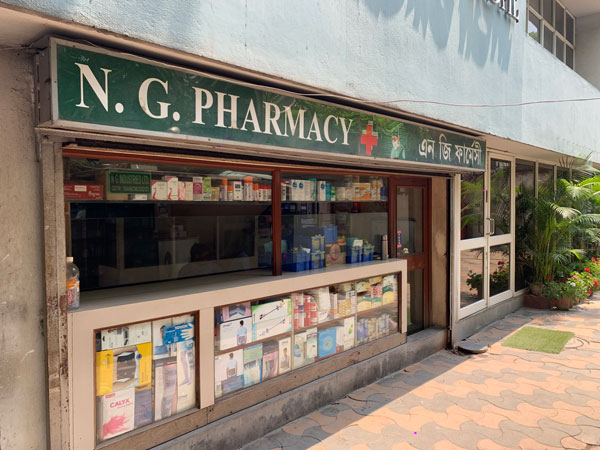 23 Southern Avenue Pharmacy is open 24 hours.